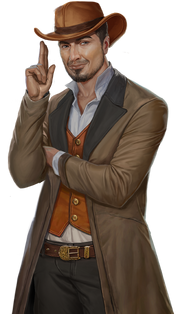 Stanley is one of the characters in Gamedec.
Lore
[
]
He lives and works in a Low City mushroom with other kids under a direct surveillace of Kid. Stanley is responsible for gathering the money needed to hire and contact Gamedec on behalf of the majority of kids working along with him. The official problem they have is related to frequent disconnections leading to losses of progress that members of Orange Dream experience.
Story appearances
[
]
Harvest Time
[
]
Stanley works for an organization called Orange Dream, led by Acke and Beauford. Stanley leaves puzzling notes with spelling mistakes on notice boards for the Gamedec to follow. He can be met for the first time on the graveyard.
Low City
[
]
There is an option to find Stanley in Realium to see where he lives.